Food Cart Advisory Committee
The Food Cart Advisory Committee will help guide the development and growth of the Culinary Corridor. The committee is made up of successful food cart owners, other restauranteurs, entrepreneurs, marketing experts and stakeholders from the city, downtown and tourism. The committee meets monthly to review financials, operations, marketing and projects.
As we look at building the Culinary Corridor in a much different landscape from when the Alder Street Food Cart Pod closed in 2019, it will be important to have the guidance and support of local experts.
Jane Kim
Food Cart Owner, #1 Bento
Jane Kim is the owner and operator of #1 Bento, a successful food cart that was part of the Alder Street food cart pod for 3 years. #1 Bento attracted visitors from all over the world and was featured in travel programs internationally. Prior to #1 Bento, Jane owned and operated a sushi and teriyaki restaurant in Lake Oswego for 6 years. 
Jane immigrated the United States from Daegu, South Korea in 1971 and settled in Chicago, IL where she became very active in her community. During a trip to visit family in Coos Bay, she fell in love with Oregon and quickly made it her home. 
In addition to serving on the Board of Advisors for Friends of Green Loop, Jane also lends her experience to the Food Cart Advisory Committee.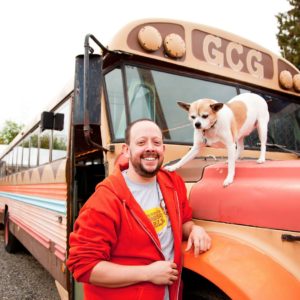 Matt Breslow
Food Cart Owner, Grilled Cheese Grill
Matt Breslow has been a part of the Portland food cart community since 2009 when he opened the first Grilled Cheese Grill on NE Alberta Street.  He opened a second location in 2010 on SE 28th Ave, which eventually evolved into a vibrant food cart pod that Breslow managed until 2015.  A third GCG location opened at the big pod on SW 10th in 2012 and was one of the most popular carts in Downtown Portland until the pod was shut down in 2019.  
Breslow has served on advisory committees for both Multnomah County Health and Oregon Health Authority, advocating for the food cart industry while assisting regulators to update and amend rules and inspection codes.  
In 2021, he permanently closed the last remaining GCG location after a year-long pandemic hiatus to seek a better work-life balance and have more time to spend with his young family.  He brings to this committee a wealth of experience, knowledge, and optimism in the Downtown food cart scene. 
Tali Ovadia
Food Cart Owner, The Whole Bowl
In 2001, Tali Ovadia opened her first 2'x 5' rolling food cart on NW 11th and Glisan, in the heart of the Pearl District. 
An instant success, Tali would go on to open a mix of 8 trailers and brick and mortars  in Portland, 1 in Cincinnati and one in Brooklyn, NY. 
With the tagline "It's Like Eating a Hug", The Whole Bowl has become a healthy quick-serve favorite for locals and out-of- towners alike.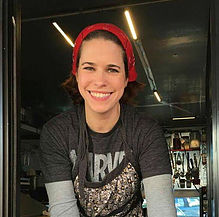 Leah Tucker
Founder, Oregon Mobile Food Vendor Association
Leah comes to us with 15 years experience in the culinary industry, consisting of front of house, back of house, management, and ownership experience. She also boasts more than 20 years experience in various office environments throughout the construction, engineering, and architectural industry.  After following her life long dream of attending culinary school, Leah opened her mobile food unit in Portland, Oregon. Sadly, in late 2017, she suffered a career altering shoulder injury that would force her to close and sell but her passion for the industry she had grown to love did not die with her food cart dreams. In April of 2018, she took her knowledge and dedication to the mobile food industry and started the Oregon Mobile Food Association to become the premier advocate for Oregon's growing mobile food industry.
Since beginning the association, Leah has successfully advocated and supported the State's rewrite of their decade old Mobile Food Guidelines in 2019 and Multnomah County's new Mobile Food Pod Regulations and Guidelines. She has and continues to advocate for and help write mobile food unit regulations for cities throughout Oregon as we continue to see both a growth in the industry and an overall acceptance and excitement around food trucks and carts joining local food scenes. She has worked side-by-side with the Oregon Restaurant & Lodging Association to bridge the gap between brick and mortar restaurants and their mobile counterparts, strongly believing the future of Oregon's food scene revitalization, post-Covid, lies on that bridge.  
Sydney Mead,
Director, Downtown Programs , Portland Business Alliance
Sydney oversees the Downtown Retail Strategy and related program work for Downtown Portland Clean and Safe (DPC&S) & Portland Business Alliance.  
Sydney has a diverse background in entrepreneurship, non-profit, and corporate leadership. She is the founder of a boutique property management firm based in Portland managing Airbnb's as well as long-term rentals. At the same time, she and her daughter started Gone West PDX, a retail store in SE Division.  She worked with a local non-profit, Ecotrust, both as a property manager managing their green building and as Director of Events.  Sydney has been both a board member and past board President for the Division/Clinton Business Association and has been on the board of Venture Portland.  Sydney loves to create large-scale events that help to educate and build community. In this capacity has worked as both event architect and producer for numerous outdoor concerts, academic conferences, convenings, and gatherings.  Some of her favorite events have been the rebooting of the Tour de Hive event (a self-guided tour of backyard beehives) and the Division/Clinton Street Fair.  In her spare time, Sydney spends time hiking Forest Park with her husband and dogs, bikes around town, and hangs out with her backyard bees.  
Katy Connors
Katy Connors is an active member in the small business community in Portland and Founding Member of local nonprofit the Independent Restaurant Alliance of Oregon. She has worked in restaurants, hotels and events for the past 12 years and specializes in operational management and event production. During the COVID-19 crisis, she has worked alongside members of the independent restaurant community to advocate for legislation and programs to support the survival of their industry.  A true believer in the power of small business and its ability to enhance a community in every way, Katy is very excited to see this project launch and succeed.